At the December Board meeting, Honor the Earth released $90K in new grants to Indigenous Organizations across the U.S. in addition to $40k granted prior.  The grants range from the work to protect sacred ceremonial grounds and traditions to the repatriation of Ojibwe birchbark scrolls.  "This year's grants are particularly focused on protection of sacred sites, and the continuation of strong cultural traditions in our Native communities," Board of Directors Co-Chair Shannon Martin (Potawatami/Anishinaabe) said.
  View our press release profiles of our new grantees here. 
"We are very pleased to be able to join with communities protecting their sacred sites, encouraging and nurturing their youth, and restoring cultural traditions," Board Co-chair Paul DeMain said. These continue to be trying times for Native peoples, as the industrial economy, often working through some of the largest polluters in the world, continues to threaten what remains of ecosystems and watersheds. Some 75 percent of the world's biodiversity remains in Indigenous territories, and many of the most pristine watersheds remain in Indigenous territories.
Honor the Earth is proud to support the Isle de Jean Charles Band of Biloxi-Chitimacha-Choctaw in this most recent grant release. This Louisiana tribe is now America's first official climate refugees.  
The plight of the Biloxi-Chitimacha-Choctaw Indians, who have called this land home since the mid-19th century, was documented in the 2010 documentary, Can't Stop the Water, and relocating the tribe has been the subject of a 13-year-long advocacy campaign by Chief Albert White Buffalo Naquin.
"This award will allow our Tribe to design and develop a new, culturally appropriate and resilient site for our community, safely located further inland,"Chief Naquin said, according to the Institute for Southern Studies. Many of the organizations funded by Honor the Earth in the past have successfully stopped projects, including this year's victories over the Keystone XL pipeline (no presidential permit) and the Gogebic Taconite (GTAC) mine proposed for Northern Wisconsin. We know it is time to protect future generations, not corporations," Kimberly Smith explained. 
"We hope there is justice for many of these communities," says Amy Ray of the Indigo Girls (Honor the Earth board member). The Shiprock Chapter of the Navajo Nation, for instance, is asking for funds to look at a water sustainability project, in light of the 3 million gallon spill into the Animas River, due to an accident caused by the Environmental Protection Agency in its testing of a mining dam superfund site. The spill released toxic water in August of this year, and the EPA has not responded to requests by the Navajo Nation. Many crops and livestock were lost throughout the Navajo Nation, as the irrigation systems had to be shut down, to protect farms from long term contamination."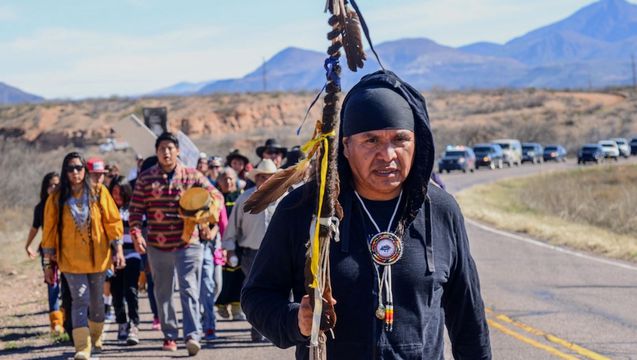 Apache Stronghold, San Carlos AZ, Wendsler Nosie Sr. $5000
The Apache Stronghold is an indigenous led movement occupying the sacred Oak Flat site to protect it from a foreign mining company which the federal government granted the right to mine the site for copper. Apache Stronghold has occupied the area since February 2, 2015 and continues to hold ceremonies every week. They travel across the United States unifying and standing in solidarity with indigenous relatives facing the same injustices and desecration of holy places. 
Brave Heart Society, Lake Andes, SD, Faith Spotted Eagle $4,000
Brave Heart Society is a revived traditional Dakota Society which exists to preserve and enhance the Dakota Culture for the generations to come as a foundation for their lives in a global society. They serve about 1000 youth per year and help to strengthen self esteem.  The Society's Buffalo Knowledge Seekers grant taught critical thinking skills and compassion to Yankton youth and their families about why the last surviving herd of DNA pure buffalo in Yellowstone need to be protected. Every year 1,000 or so buffalo are slaughtered by the National Park Service; these buffalo are in the 1851 Treaty Territory of the Yankton people, but the tribe has not exerted a visible presence there and youth can develop and assert this presence one day to advocate for the herds. 
Cheyenne River Youth Project, Eagle Butte, SD, Julie A. Garreau $4,000 
The Wiyan Toka Win ("Leading Lady") Garden is a key component of CRYP programs and services and is the cornerstone in the effort to build a more sustainable food system on the Cheyenne River Sioux reservation, while fostering environmental stewardship. Honor funded a garden project that was guided by traditional and spiritual principles, incorporating Lakota values into the gardens development – Generosity, Spirituality, Wisdom, Respect, Courage, Honesty, and Patience. One of the most important aspects of the garden program was fostering community participation to transfer the value of gardening and knowledge of traditional agricultural methods from generation to generation.
Dakota Wicohan, Morton, MN, Eileen O'Keefe $4,000
A Dakota Lands Curriculum was written, piloted  and proven successful here in Minnesota Makoce. Honor supported with urgently needed funds to revise this curriculum. The goal of the curriculum was to actively encourage secondary learners to understand the significant Dakota relationship to Mni Sota Makoce and actively engage in the Dakota value of "mitakuye oyasin."
Earth Guardians, Boulder, CO, Tamara Roske $5,000
Earth Guardians inspire and equip youth to develop their own solutions and pursue concrete, achievable strategies that leverage their own strengths and passions.  Honor the Earth support Earth Guardians staff in coordination and implementation of RYSE trainings, further development of an online platform for youth development and networking, the involvement of international crews leaders, particularly from Indigenous backgrounds and the global South, into the international advocacy realm, and coordinating international Protect Our Future campaign actions.
Recent update: "Judge Denies Motion Brought by Fossil Fuel Industry in Historic Youth Lead Climate Change Case"
Eco-Cheyenne and National Wildlife Federation, Billings, MT, Alexis Bonogofsky $3,000
Last summer, Eco-Cheyenne and National Wildlife Federation worked to raise awareness on the Northern Cheyenne Reservation, generate comments on the draft environmental impact statement for the Tongue River Railroad coal transportation through sacred lands and get Northern Cheyenne tribal members signatures on a petition asking the STB to deny the Tongue River Railroad a permit. frac
.
Fractivist.org, Longmont, CO, Shane Davis $3,000 p/m through September
In the fracking fields of the Bakken in Northern Dakota the Mandan, Hidatsa and Arikara communities of the Fort Berthold reservation are being detrimentally impacted by extreme extraction. Shane Davis, collaborating with Honor the Earth, conducted research to create the space for aware-raising about the chemicals utilized in these fracking fields, the cost to the land, water and health of the community. These sacred waters and land must be protected from any further damage and solutions found to remediate already toxic poisons.
Halau Hula Ke'alaonamaupua (HHK), Kamuela, HI, Pua Case $5,000
Halau Hula Keʻalaonamaupua researched traditional sacred prayers and chants connecting Mauna Kea (most sacred mountain in all of the Pacific) to Kai moana nui akea, the deep ocean waterways used to voyage by traditional canoes to teach prayers and chants along with protocols and traditions through workshops on Hawaiʻi Island.
Indigenous Climate Action, Fort Chipewyan, AB Canada, Eriel Deranger $5,000
With a growing base of Indigenous resistance across Turtle Island, to protect our environment, come bigger challenges to stay connected and ensure that our collective work is relevant and effective. Eriel Deranger from the Athabasca Chipewyan First Nation, Crystal Lamemen from Beaver Lake Cree First Nation & Jesse Cardinal with the Keepers of the Athabasca – all Indigenous women from tar sands impacted communities – organized a gathering of key Indigenous peoples, organizations and groups impacted by climate change, resource extraction, pipelines, refineries, tankers and all associated policies to convene in Edmonton, Alberta on January 24th.
Intertribal Council on Utility Policy, Rosebud, SD, Bill Schumacher $5,000
Intertribal COUP continued to promote and elevate tribal concerns regarding the PUC grant TransCanada's Recertification request, through potential appellate processes in state or federal court. TransCanada sought to convert the pipeline pathway to carrying Bakken crude oil from North Dakota through the territory of the Great Sioux Nation, posing similar threats to the cultural, social and physical environments as did the tar sands pipeline.  
Isle de Jean Charles Band of Biloxi-Chitimacha-Choctaw, Montegut, LA, Albert Naquin, $5,000
The Tribe worked on drafting a master plan via a planning session with already identified Native development practitioners, green building experts, and Native traditional agriculture experts. Lowlander staff convened and facilitated such a planning session, and brought together the necessary experts and Native development practitioners.  This master plan will contribute to the Tribe's ongoing resettlement efforts.
Honor the Earth is proud to support the Isle de Jean Charles Band of Biloxi-Chitimacha-Choctaw in this most recent grant release. This Louisiana tribe is now America's first official climate refugees.  
The plight of the Biloxi-Chitimacha-Choctaw Indians, who have called this land home since the mid-19th century, was documented in the 2010 documentary, Can't Stop the Water, and relocating the tribe has been the subject of a 13-year-long advocacy campaign by Chief Albert White Buffalo Naquin.  
Please see this video - 
Nibi Walks, Minneapolis, MN, Sharon Day $4,000
The Nibi Walks were created after the Mother Earth Water Walk was concluded.  The Mother Earth Water Walks led by Grandmother Josephine Mandamin in 2011 brought water from the 4 oceans to the heart of Turtle Island at Lake Superior.  The waters were co-mingled then in ceremony were emptied into Lake Superior to find their way back to their respective oceans. Honor the Earth grant supported the Nibi Walk's Mni Sota River Water Walk in the spring of 2016 and further explored the Missouri River Water Walk in 2017.
Native American Educational Technologies, Hayward, WI, Paul DeMain $5,000
To protect our water and way of life in the ceded territory of northern Wisconsin, Native American Educational Technologies resisted the Enbridge pipeline at LCO, a new proposed mine at Bad River's Penokee Hills, and a 26,000 pig factory farm on the shores of Lake Superior. LCO held a public hearing at the tribal convention center, followed by a return to the sugar bush to help our communities return to a local traditional food based economy.  
Owe Aku, Manderson, SD, Debra Whiteplume $5,000
In 2007 Owe Aku and allies filed to seek "intervenor" status in the license renewal application of Canadian owned Cameco, Inc. which they submitted for In Situ Leach uranium mining at Crawford, NE.   After almost 10 years of side hearings and a lot of legal wrangling by our pro bono attorneys, the Atomic Licensing Board of the Nuclear Regulatory Commission has scheduled our case for August 24, 2015 and expects the hearing to last for one week.   When Owe Aku filed, they were the first intervenors to file against a uranium mining corporation in the United States in 17 years. Honor supported getting witnesses and the legal team to the hearing on August 24.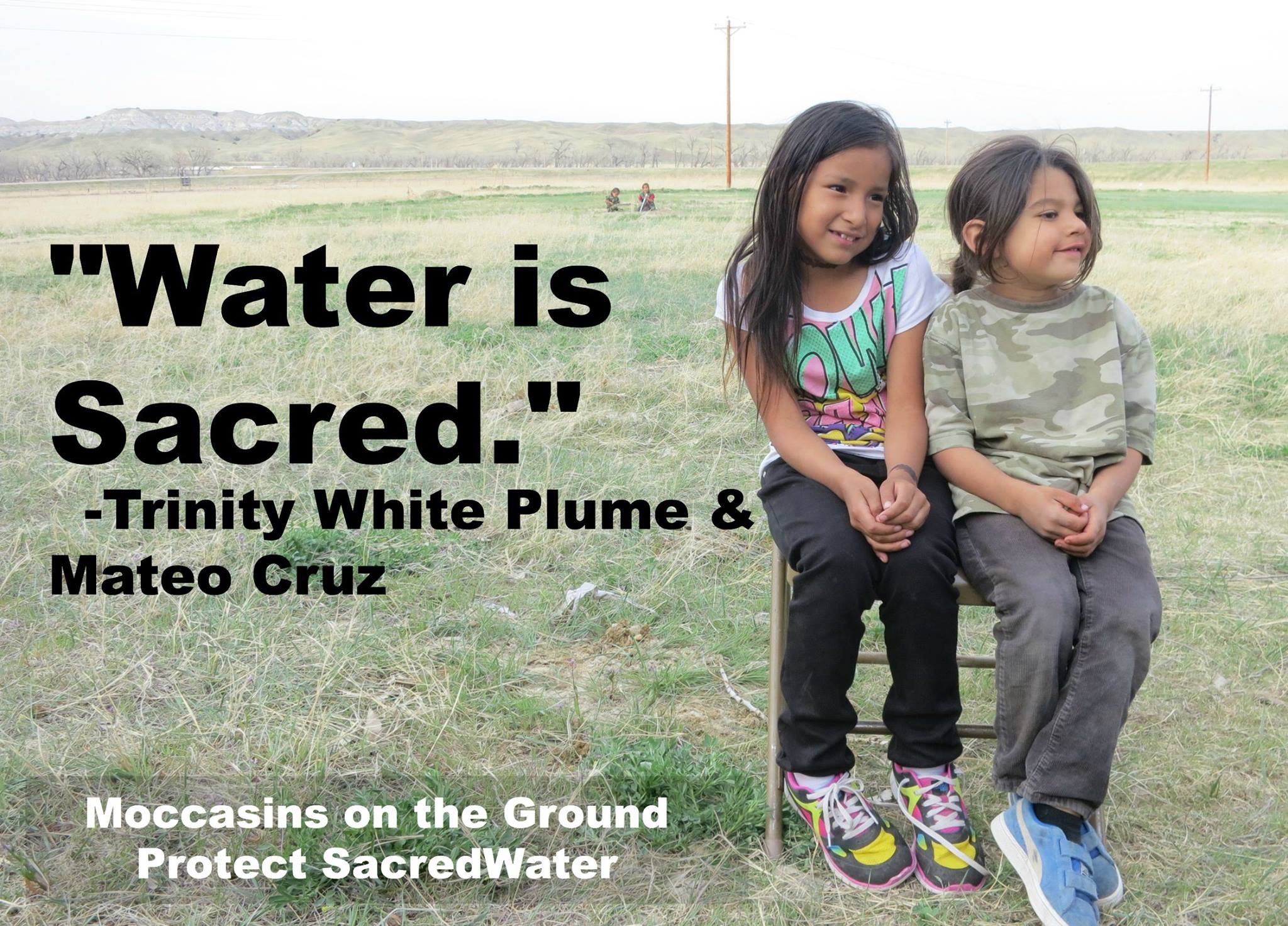 Sung Nagi Okolakiciye/Horse Spirit Society, Manderson, SD, Percy Whiteplume $1,000
Facing down the threats to sacred territories, water and peoples with the KXL proposal, these groups have collaborated with Anishinaabe relatives in opposition to the proposed Enbridge Sandpiper pipeline through their territories. Honor supported travel with their horses to Minnesota to ride with relatives on their spiritual horse ride along the proposed Sandpiper route. It was a 200 mile journey and Honor supported transportation, feed, and care for horses and riders in their work to stop these pipelines.
Native Harvest, Callaway, MN, Barbara Ann Warren $2,000
Native Harvest worked to continue reviving and protecting our native seeds, heritage crops, naturally grown fruits, animals, wild plants, traditions and knowledge of our indigenous and land-based communities; for the purpose of maintaining and continuing our culture and resisting the global, industrialized food system that can corrupt our health, freedom, and culture through inappropriate food production and genetic engineering. They supported community members building restorative justice, using traditional foods, through cultural revitalization among the Native population in the prison system.

Shiprock Chapter - Navajo Nation, Shiprock, NM, Duane Chili Yazzie $5,000
The Shiprock Chapter of the Navajo Nation obtained a planning document to create an infrastructure for water resilience for the Shiprock farming community where no independent infrastructure presently exists. The planning document is set to include a description of the community's current water infrastructure needs and challenges, including use of Diné culturally-based knowledge in the evaluation, protection and management of our water sources, and will set forth options, evaluate the options, and finally the feasibility and order of magnitude cost estimates.
Taos County Community Economic Development Commission, Taos, NM, Pati Martinson and Terri Badhand $5,000
These groups launched the meeting creating the Indigenous Slow Food work in particular Turtle Island Slow Food Association- bringing together producers and advocates from across North America with the intention of protecting sacred foods including wild rice, taro, churro sheep, Columbia River salmon, maple syrup, and other heritage foods. This was the first Indigenous Slow Food member of International Slow food in the world. 
Website under construction: www.tcedc.org
The Center Pole, Garryowen, MT, Peggy Wellknown-Buffalo $5,000
The Center Pole is a 16-year-old Native 501 (c) (3) organization located on the Crow Indian Reservation in rural southeastern Montana whose mission is to increase knowledge, justice and sovereignty in Native communities and support indigenous ways. Honor the Earth funds were used to finish their earth lodge project and to begin their organization's conversion to sustainable energy (solar). The purpose of all these projects was to showcase simple, practical, sustainable projects that community members can do themselves to return to a simpler, sovereign and independent way of living.
T'Sou-Ke Nation, Sooke, BC Canada, Christine George $5,000
Honor the Earth supported youth engagement outings and activities, which included Native and medicinal plant gatherings, Indigenous native fruits and berry gathering, plant identification outings, seed gathering and traditional seafood gatherings. Funds were used for supplies to gather, travel, and provide food.
Unistoten Sovereignty Camp, Smithers, BC Canada, Freda Huson $5,000
We supported the on-going maintenance of the sovereignty camp, active blockade against the pipelines. The Sovereignty Camp resumed and resourced this programs and projects, including building the Healing Center, a healing space for Indigenous people who visit the camp, and supporting the Unist'ot'en Youth Art Mural project, coming up in June of 2016, which will support 20-30 northern Indigenous youth to learn from Indigenous art mentors, as well as supporting the annual work camp and action camp, happening in May and July 2016.
Voices of the Sacred, Missoula MT, Krystal Two Bulls $5,000
Voices of the Sacred is a Native youth empowerment and leadership development organization. Voices of the Sacred mobilized and engaged Native youth in environmental and social justice campaigns within their communities by empowering their voices, giving them the skills and education to utilize those voices and connect them to current campaigns to build the capacity of said campaign. Voices of the Sacred hosted 1 and 2 day expressive arts workshops that incorporate direct action and community organizing with poetry, spoken word and hip hop.
Winnemen Wintu Tribe (Indian Cultural Organization), Redding, CA, Caleen Sisk $5,000
The Winnemem Wintu are currently engaged in multiple efforts to restore elements of our culture that thrived prior to colonization, including the return of our Fire and Water ceremony to bring balance to Mother Earth and the construction of a Tlut, a cultural center. Honor the Earth funded construction of the first Wintu center to replace the many roundhouses that were burned down and destroyed by settlers in the 19th century. Funds for Fire and Water were used to fly in medicine people and indigenous knowledge keepers from Hawaii, Guatemala, New Zealand and other places to strengthen their ceremony with their prayers and songs.
Yukon River Intertribal Watershed Council, Anchorage, AK, Kelly Donnelly $5,000
The Fish Passage Planning Project is an effort to enhance food security and access traditional foods for Yukon River Peoples.  This project designed a youth-led, elder-informed resource for use in culture camps and tribal communities.  Project outcomes included youth leadership development, a model habitat restoration process, and a clear means of conveying traditional ecological knowledge from elders to youth.
Yellowbird, Lamedeer, MT, Lynette Two Bulls $5,000
The grant to Yellow Bird, an affiliate of Seventh Generation for General Operating Expenses for the 20th Annual Fort Robinson Outbreak Spiritual Run, and Empowerment programs. The Fort Robinson Run takes place on January 8-14, 2016. This activity is to heal from trauma, empower our youth and create community leaders. The empowerment programs continue to work with the youth throughout the year. Yellow Bird, founded on the traditional value of   Reciprocity; "giving back" to the community; has been operating youth programming for over 20 years and the primary focus is to create social change by reconnecting to our Indigenous lifeways, and empower our youth, families, and communities.
White Earth Land Recovery Project, Callaway, MN, Bob Shimek $5,000
In an effort to restore traditional, cultural practices in a sustainable way that leads to protection of the environment and sacred sites, this organization is building accessibility through the purchase of a mini-bus so that White Earth elders could travel to share traditional stories and teachings. This continued bulding a connection for community members to work together to build their futures, while facing the threats of pipelines and mining in the region.
White Earth Land Recovery Project, Callaway, MN, Bob Shimek $5,000
In the face of extreme extraction threatening the sacred Manoomin (wild rice), waters and land of Anishinaabe people, this project sought to restore traditional values of being caretakers of our Great Mother. To do this, we worked to reduce our fossil fuel dependency in this region through the introduction of sustainable approaches - renewable energies - which will help guarantee a future for at least the next seven generations. This grant funded the purchase of cable to complete the installation and commissioning of our Bergey wind turbine at WELRP premises in Callaway, Minnesota. 
Native American Graves Protection and Repatriation Act, White Earth Reservation, MN, Cayla Olson $3,537
The White Earth Reservation Tribal Council, with the assistance of the Director of Natural Resources Monica Hedstrom, NAGPRA Consultant Jaime Arsenault, Cultural Division Coordinator Merlin Deegan, community member Bob Shimek, and Tribal Historic Preservation Officer Cayla Olson, initiated proceedings to repatriate a birch bark scroll of great cultural, spiritual, and historic significance to the White Earth Nation. The scroll is currently held at the Robert S. Peabody Museum of Archaeology, where it has resided since around the turn of the century.
Viterbo University, Lacrosse, WI, Michael Alfieri $4,000
Through a collaborative effort between the Sacred Water Sacred Land Institute and Viterbo University Honor funded a free Traditional Ecological Knowledge Conference hosted at Viterbo University. The conference encompassed all aspects of resilience building.  It featured renowned Native speakers explaining the importance of ecological knowledge along with western scientists addressing the same issue. Roundtable discussions enabled people from various perspectives to grapple with entrenched viewpoints.
Covenant Pathways, Gallup, NM, James Skeet $4000
Honor supported a permaculture farming vision to assist Native American families in the desert Southwest, by supporting a reintroduction of sustainable farming so akin to Native people. One generation ago the Navajo people worked together to produce squash, beans, corn and melons for the community at large. The overall purpose of Covenant Pathways was to encourage Navajo families to step back to its historical self-sustaining farming practices using permaculture techniques that build the soil for maximum production that uses less water and does not plow or till the soil.
Debwe Youth Center, Detroit Lakes, MN, Roxanne Fairbanks $10,000
In the heart of our community is a beautiful life: Minobimaatisiiwin. It is not what we see now, but it is what our ancestors saw and our children deserve.  This project is about revitalization and hope for the coming generations of the Pine Point community, through art, cultural restoration, economic pilot projects, renewable energy and local food restoration. It is a restoration of the sacred traditional practices to revitalize our community. 
A second project was funded, to support the continuation of this work through the formation of the Sandpiper Alliance, where community members rebuilding their traditional ways are working to protect these territories from extreme extraction destroying this area, that is, the proposed Sandpiper pipeline.
Olahana Foundation, Pa'auilo, HI, Maraya Ben-Joseph $4,000
Working to engage all Hawaii residents, both young and old, Olohana and its various partners, numerous food forests were planted along the coast and on mountain farms. Olohana worked with local charter schools, the National Park Service, local farmers and community members to create working and living models of food forest that can be replicated all over the Hawaiian Islands. In order to reach a wider audience, Olohana used funds to document and create a 30 minute film of the whole development process of the food forest, how the food forest's creation works to help communities with concerns, food security issues, cultural knowledge preservation, assistance with disaster preparedness, and community networking.